Daxell Semarang, Jogya : Rentalan alat Translater di Jogya,  jasa sewa perangkat Translator Interpreter di Solo | sewa Sis simultan | rental wireless interpreter | sewaan headset | rentalan headphone earphone untuk konferensi internasional, dan kami siap mengantar jasa sewaan rentalan Interpreter ke kota kabupaten Semarang.
Tampak Penerjemah / Interpreter / Translator berada di dalam booth untuk memberikan terjemahan secara audio dan simultan kepada seluruh peserta yang mengenakan wireless earphone.
Tentu kami memberikan jasa sewa wireless headset mic juga. Penggunaan sewa Booth translator / kotak penerjemah merupakan optional.
Pembicara A :
Pembicara akan membawakan materi pembahasa konferensi nasional kepada hadirin B, apa yang diurakan pembicara akan diterjemahkan oleh Interpreter / simultan translator B
Interpreter B :
Translater B akan menerjemahkan secara audio lisan apa yang dikatakan oleh pembicara A. Tentu proses penerjemahan oleh B secara lisan dan menggunakan wireless headset dan disalurkan lewat microphone headphone.
Hadirin C
Para hadirin / partisipan siap mendengarkan audio lisan lewat headphone / earphone yang mereka kenakan dan sewa, sejarah singkat alat interpreter dan jenisnya.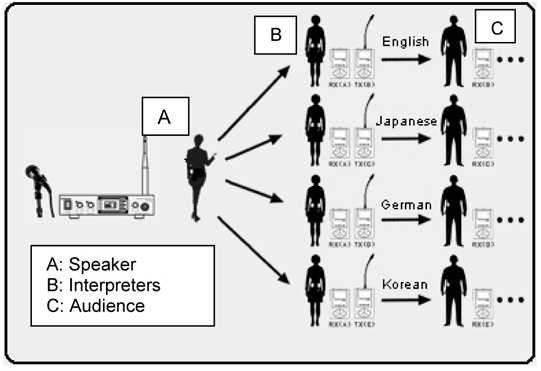 Spesialisasi Kami sebagai pemberi jasa sewa interpreter alat di semarang jogya solo :
Sudah banyak hotel di solo semarang yogyakarta memanggil jasa sewa kami untuk alat interpreter SIS
Banyak klien mengadakan konferensi multinasional menggunakan Sistem TGS / SIS translator ke kami
Pelayanan sewa Translater mencakup semarang Solo dan Yogyakarta dgn siap terima order 24 jam sehari
Spesifikasi alat interpreter Translator kami :
Frequency: 796Mhz to 815Mhz, which is free and legal in Asia, so it also works well in KSA.
Channel: 100channels, so you don't have to worry about there will be intereference with other groups.
Distance: 200meters
Working hour: 8-10hrs for transmitter and 16-20hrs for receiver.
Battery: Lithium charging battery. 2-3 hrs fully charged.